Simple Summer Tomato Salad
Jump to Recipe Summer tomato salad is the perfect recipe to make with garden tomatoes! It's an easy side salad to pair with grilled meat, fish, or even to eat on its own! If you are in the camp that some of the most delicious recipes are also the simplest, then this simple summer tomato salad is […]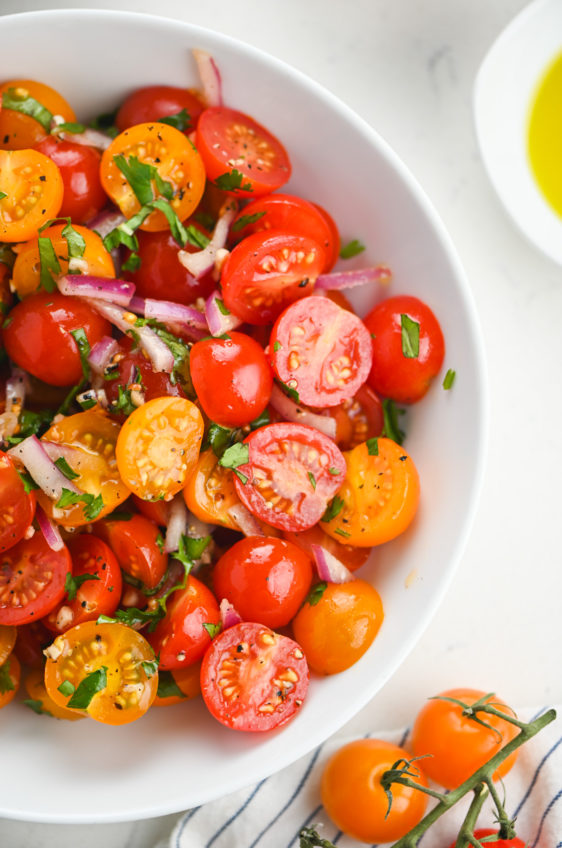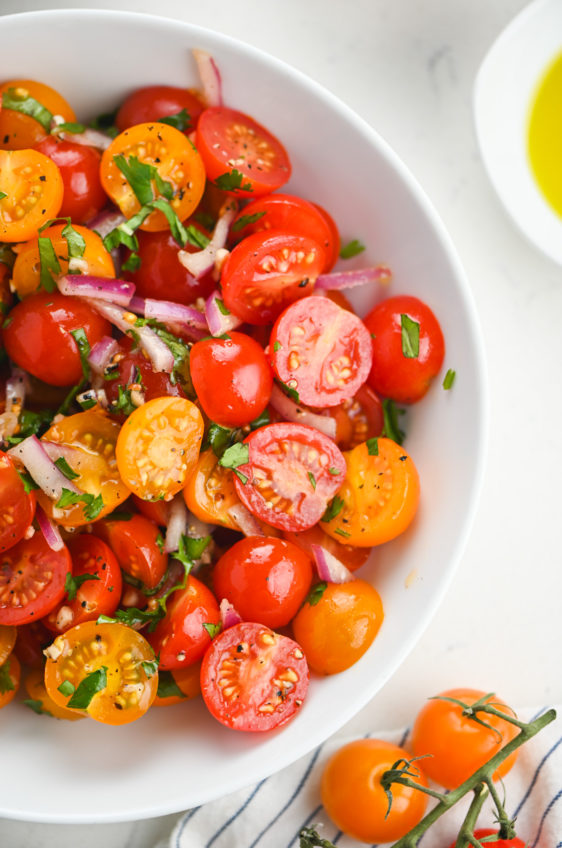 Summer tomato salad is the perfect recipe to make with garden tomatoes! It's an easy side salad to pair with grilled meat, fish, or even to eat on its own!
If you are in the camp that some of the most delicious recipes are also the simplest, then this simple summer tomato salad is for you. It is full of fresh tomato flavor, a hint of sweet basil and red onion. Trust me, this one is going to be on repeat all summer long.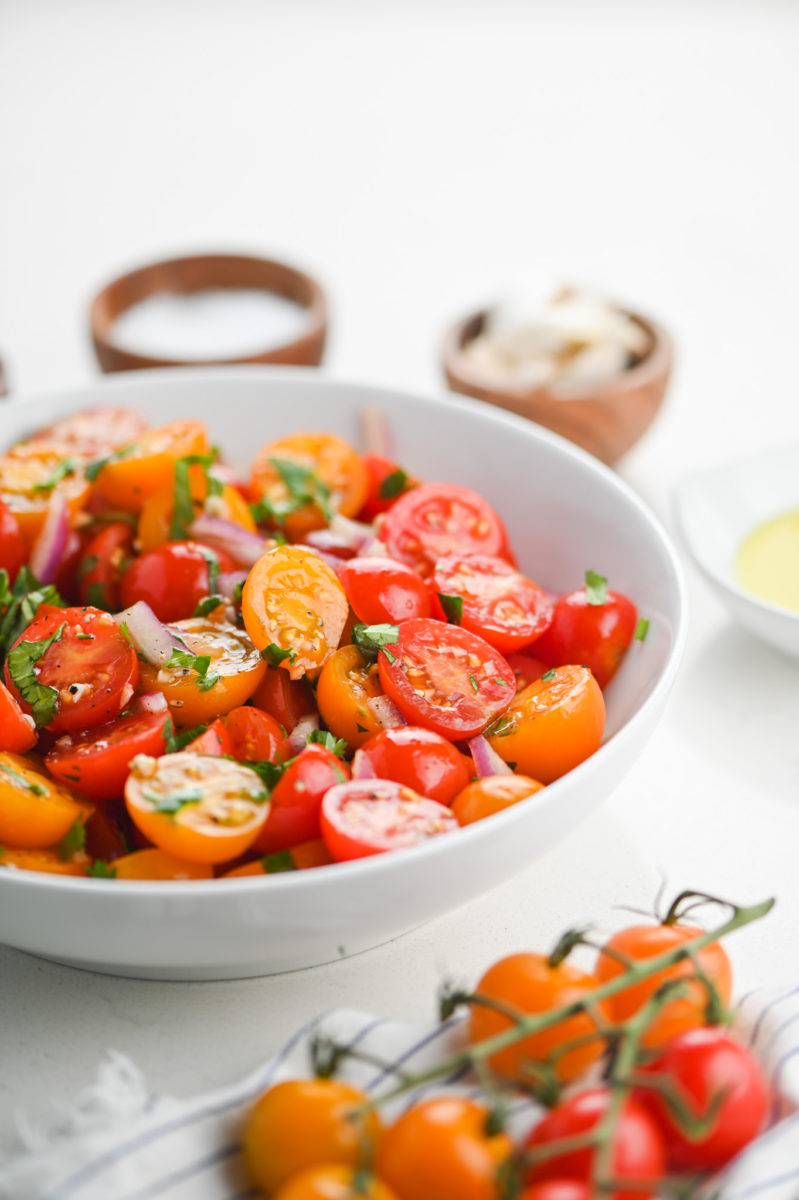 Now, I love a good salad, but I'll be honest, sometimes I get a little bored of actually having lettuce in my salad. I know it's weird, but sometimes I want salad where the main ingredient is something other than lettuce. Something like kale or Green Beans , zucchini and even celery. 
But one of my favorite summer salads is the simplest of them all: Summer Tomato Salad.
 It's perfect for hot days. It's great as a starter salad for a summer dinner out on the patio. It just really is the perfect summer salad.  Not too heavy, just pure summer tomato bliss.
Let's talk about what you're going to need to make it. 
Summer Tomato Salad Ingredients: 
Because we are working with such few ingredients in this recipe, it is essential that you use the highest quality that you have. All of the flavors are going to shine.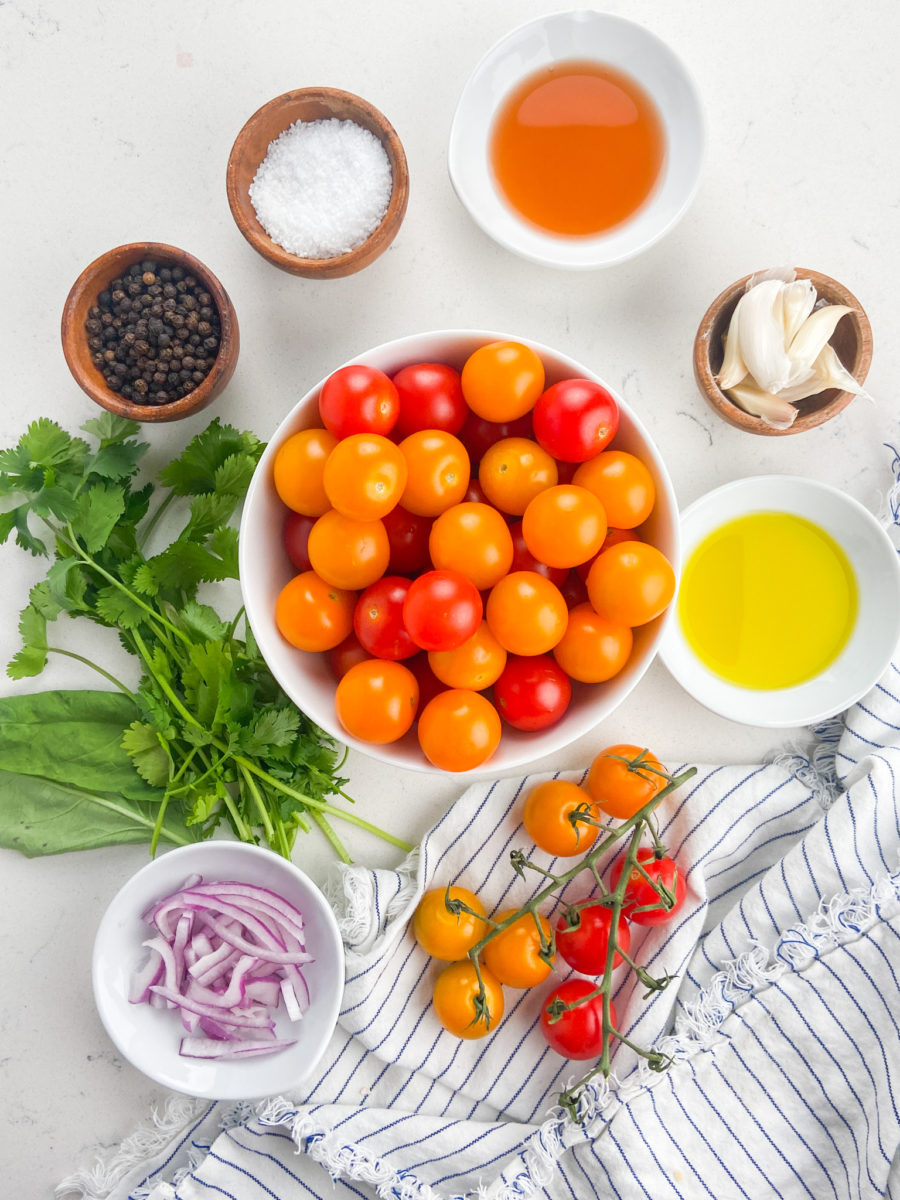 TOMATOES: When it comes to tomatoes, the small tomatoes are usually the sweetest so I like to use them in salads. For this recipe, I use cherry tomatoes and yellow cherry tomatoes. I picked two different colors because they make the salad even more gorgeous and yellow tomatoes are even a bit sweeter than their red counter parts. You can use whichever small tomatoes you have on hand, the flavors will be similar. 
RED ONION: Thinly sliced red onion adds just a slight oniony flavor to the dish without overpowering. 
GARLIC: You only want to use one or two cloves here. Like the onion, using too much raw garlic will overpower the sweetness of the tomatoes. 
BASIL: Nothing goes better with sweet summer tomatoes than sweet summer basil. They are a match made in heaven. 
PARSLEY: Adds freshness and color to the salad. 
RED WINE VINEGAR: Adds a bit of sharpness to the salad. 
EXTRA VIRGIN OLIVE OIL: Use the highest quality extra virgin olive oil you can find. 
SALT AND PEPPER
Step by Step Photos and Instructions: 
This tomato salad, like most salads, doesn't take much in terms of preparation. The hardest part, in my opinion is letting it sit at room temperature for an hour. This will give all of the ingredients a chance to meld.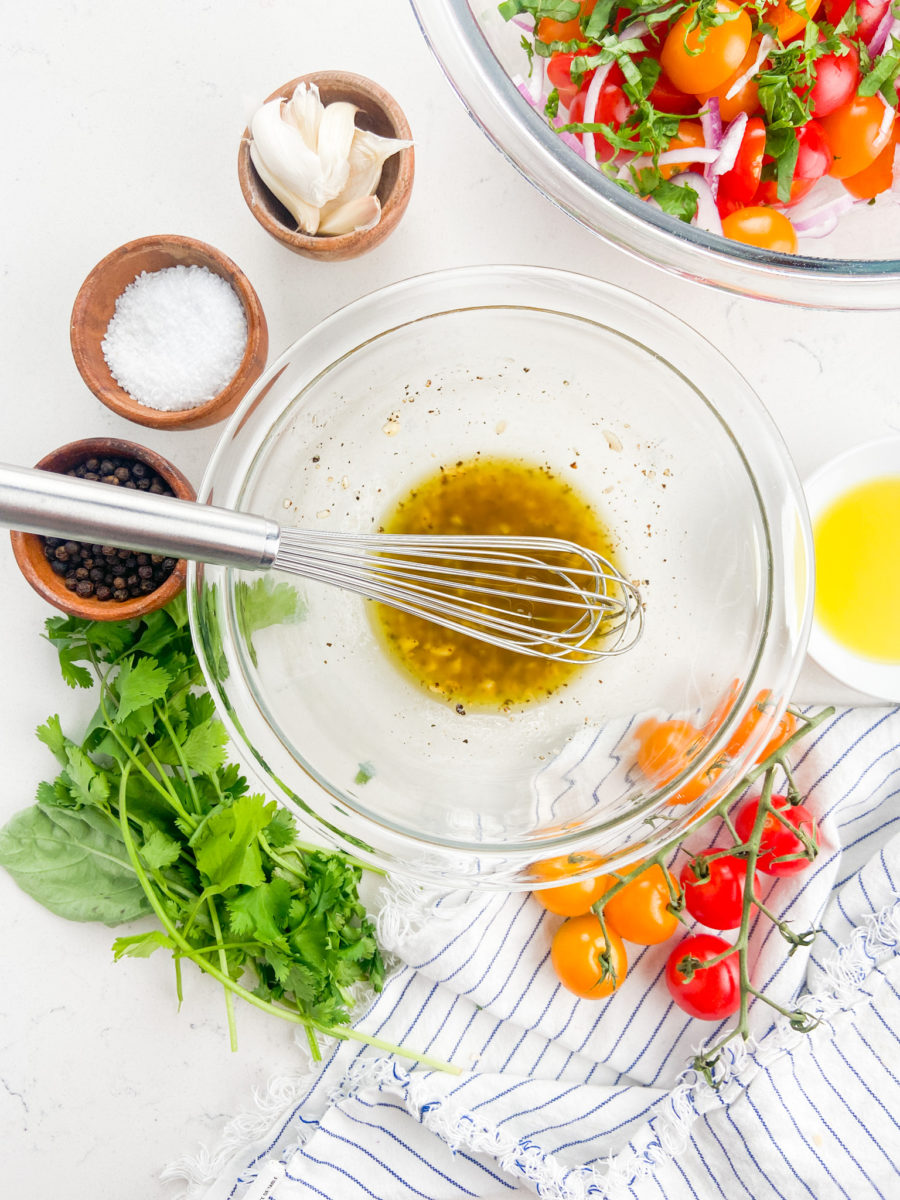 STEP #1: In a small bowl, combine olive oil, red wine vinegar, garlic, salt and pepper. Whisk to combine.
STEP #2: Combine cherry tomatoes, sun gold tomatoes, red onion, basil and parsley together in a large bowl. Pour the dressing over the top. Toss to coat. Cover and allow to set at room temperature for 1 hour before serving. Adjust salt and pepper if necessary. 
Storage and Leftovers: 
Because tomatoes lose so much of their flavor when they are refrigerated, I really recommend eating this salad the day that it is made for the best tomato flavor. That said, leftovers can and should be refrigerated. Just make sure to allow it to come to room temperature before serving and use within a couple of days. 
Recipe FAQ: 
Why should you not refrigerate tomatoes?
While refrigerating tomatoes prolongs their shelf-life, it can degrade the flavor and texture.
Are yellow tomatoes sweeter than red?
Yellow tomatoes are fruitier and sweeter than red tomatoes. Sun gold or yellow tomatoes are basically nature's candy. The combination of the two in this recipe is the perfect balance of sweet and tart.
Which olive oil is best for salads?
Extra Virgin Olive Oil is by far the best olive oil for salads and salad dressings. It has a more pronounced flavor and will elevate any salad.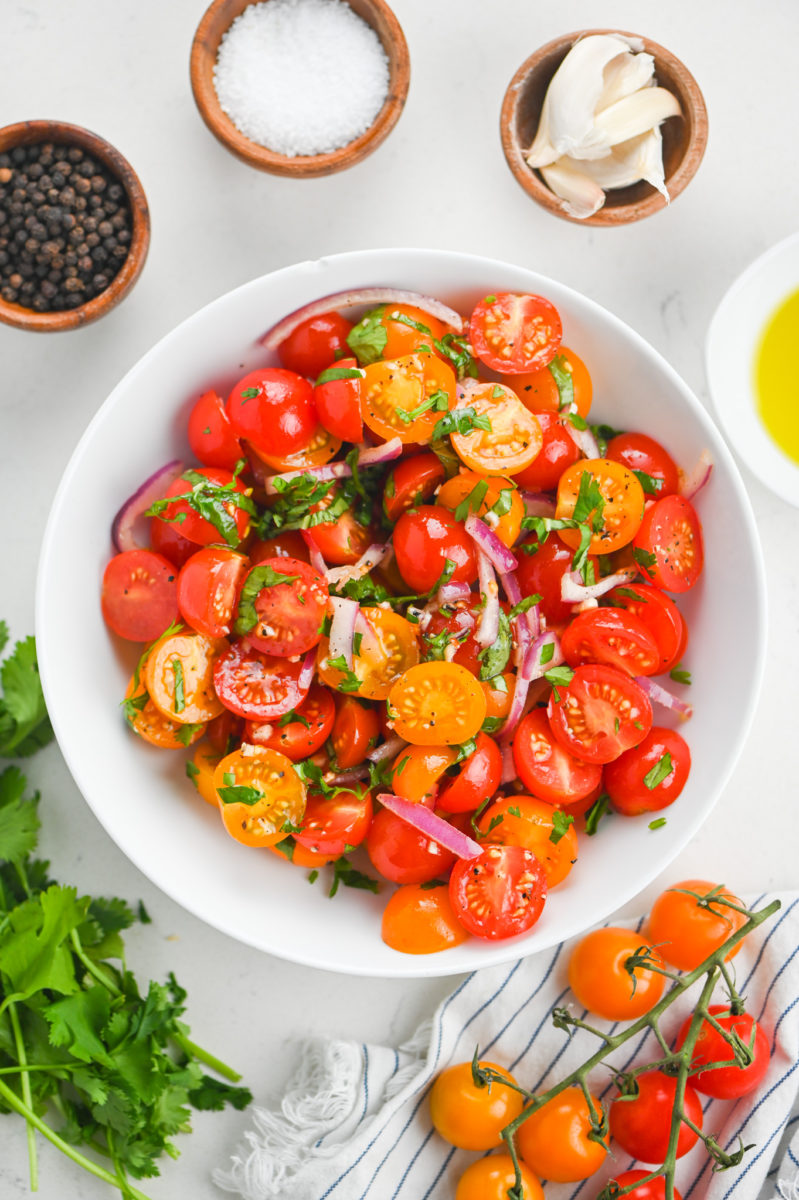 Looking for more tomato recipes to use during summer? Check these out:
Have green tomatoes on your tomato plants? Make Fried Green Tomatoes!
Small Batch Tomato Jam is also a summer time must!
My absolute favorite summer pasta to make is Shrimp Linguine with Zucchini and Tomatoes. It's full of summer flavor!
Note: This recipe was originally published in 2015. It was updated in 2023 with a slightly modified recipe, new step by step photos and nutrition information.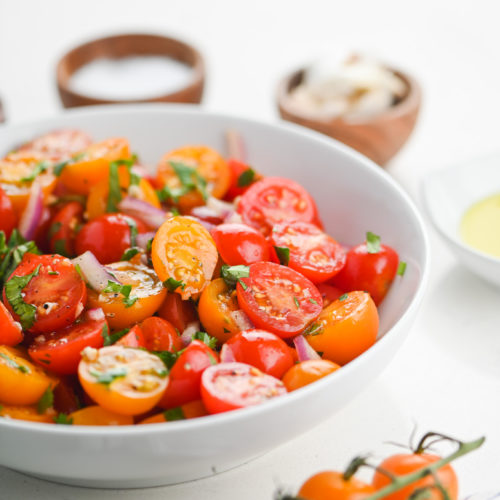 Simple Summer Tomato Salad
This Simple Summer Tomato Salad with tomatoes, shallots, garlic, herbs and olive oil is the perfect salad for any summer get together.
Servings 4 Servings
Calories 88kcal
Ingredients
Ingredients:
2 tablespoons olive oil
1 tablespoon red wine vinegar
2 cloves garlic minced
3/4 teaspoon kosher salt
1/2 teaspoon black pepper
1 1/2 cups cherry tomatoes halved
1 1/2 cups sun gold tomatoes halved
1/4 cup red onion thinly sliced
1 tablespoon fresh basil chopped
1 tablespoon fresh parsley chopped
Instructions
Whisk together olive oil, red wine vinegar, garlic, salt and pepper.

Combine cherry tomatoes, sun gold tomatoes, red onion, basil and parsley in a large bowl. Gently mix together.

Pour dressing over the top, toss to coat. Allow to set at room temperature for 1 hour before serving. Adjust seasoning with salt and pepper if desired.
Notes
For best flavor, I recommend eating this tomato salad the day it's made. However, it can be refrigerated, just make sure to bring it to room temperature before eating. 
Nutrition information for estimation purposes only. 
Nutrition
Calories: 88kcal | Carbohydrates: 6g | Protein: 1g | Fat: 7g | Saturated Fat: 1g | Polyunsaturated Fat: 1g | Monounsaturated Fat: 5g | Sodium: 457mg | Potassium: 299mg | Fiber: 1g | Sugar: 2g | Vitamin A: 386IU | Vitamin C: 20mg | Calcium: 21mg | Iron: 1mg
The post Simple Summer Tomato Salad appeared first on Life's Ambrosia.