Raspberry Peach Crisp
Jump to Recipe This Easy Raspberry Peach Crisp is a must make for summer! Fresh peaches and raspberries are tossed with sugar then topped with a crumble topping. Serve warm with vanilla ice cream! When it comes to desserts, I'll be the first one to admit that I like to keep it easy. I will […]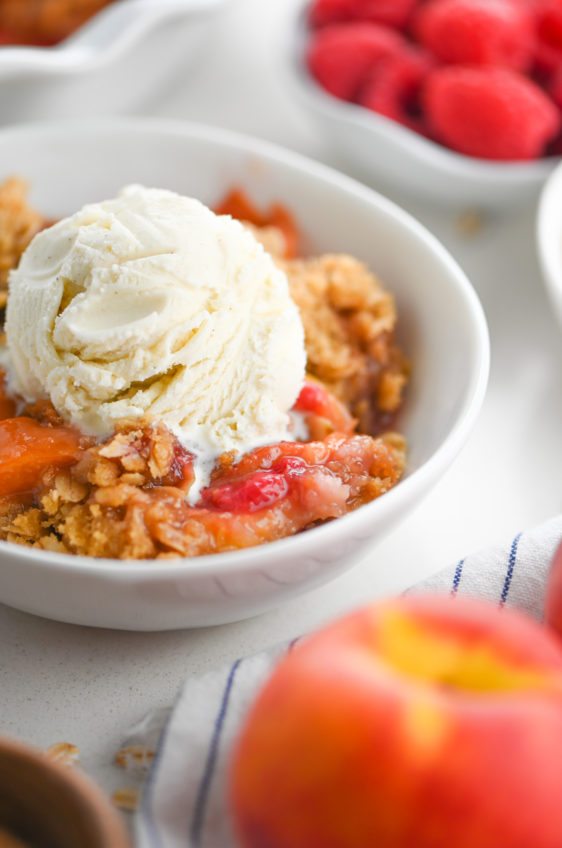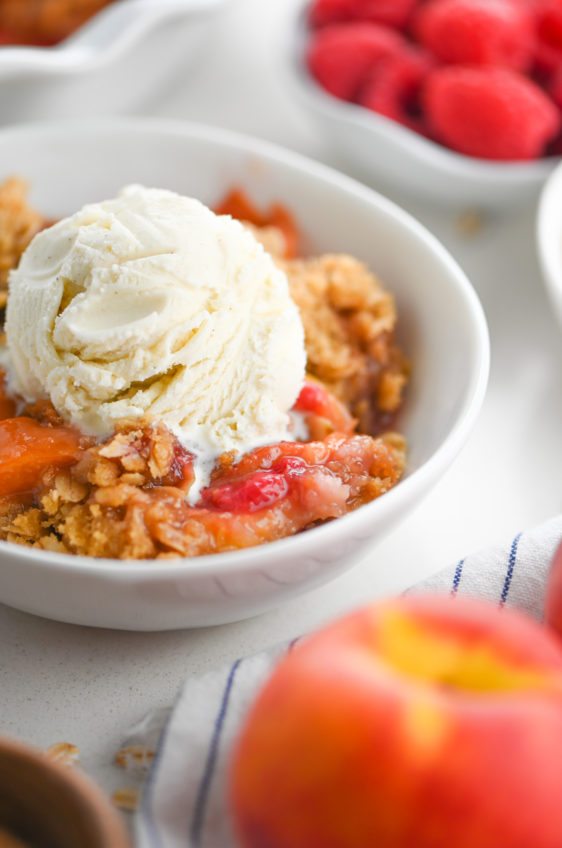 This Easy Raspberry Peach Crisp is a must make for summer! Fresh peaches and raspberries are tossed with sugar then topped with a crumble topping. Serve warm with vanilla ice cream!
When it comes to desserts, I'll be the first one to admit that I like to keep it easy. I will often take a lot more time preparing the main course than the dessert. I don't generally make fancy layered cakes or gorgeously decorated cookies because I just don't have the time. BUT I do love desserts so I make recipes that come together quickly but are just as decadent.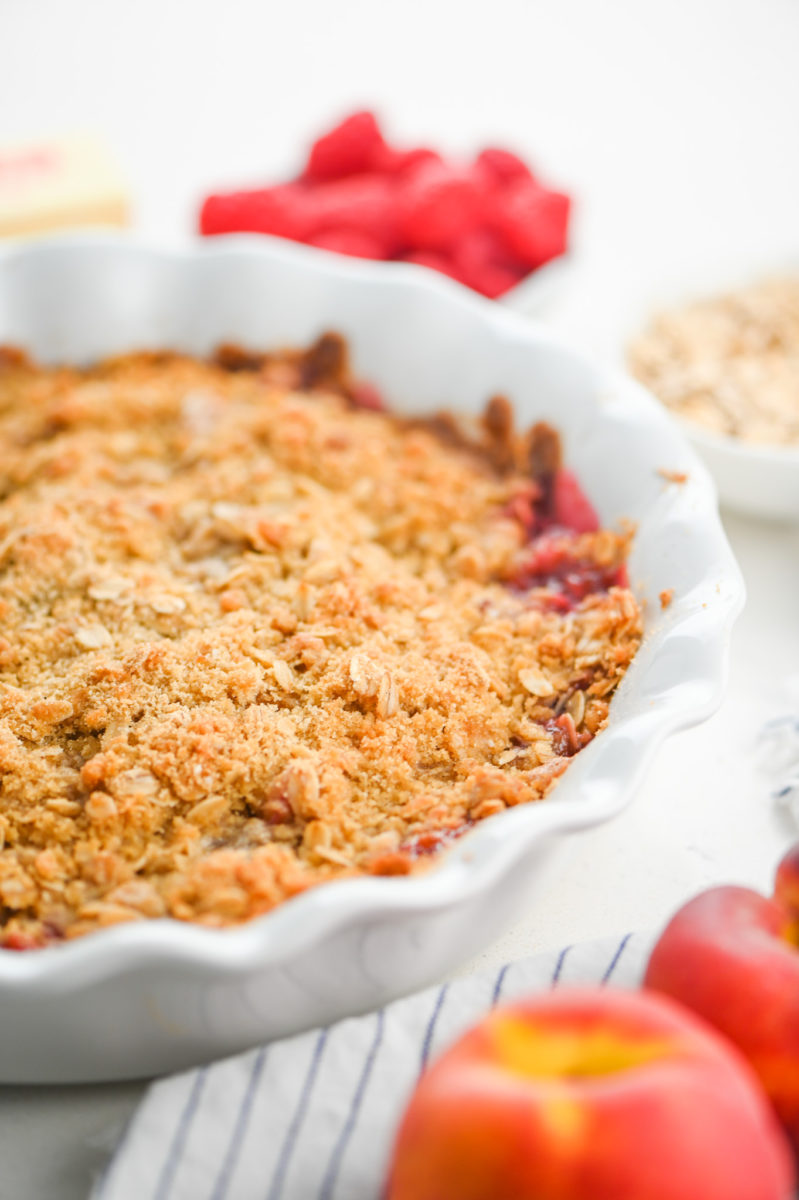 Enter crisps. I LOVE fruit crisps because of how insanely easy they are to make. All you need to do is combine the fruit filling with a little sugar and flour, put it in a baking dish and then top it with a buttery crisp topping. The result is a delectable sweet treat that, when served warm with vanilla ice cream, is positively divine.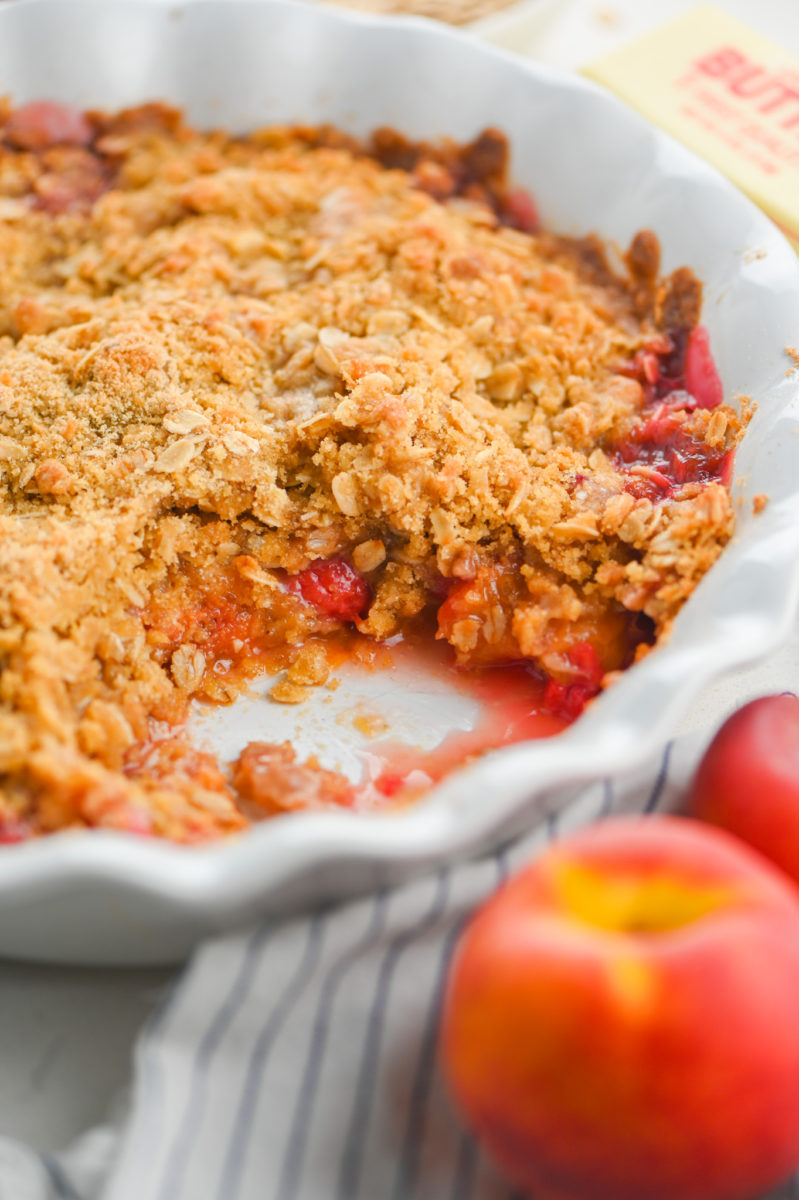 This Raspberry Peach Crisp is one of my favorites to make in the summer. Making use of sweet peaches and tart summer raspberries. Let's talk about what you'll need to make it:
Raspberry Peach Crisp Ingredients:
There aren't a ton of ingredients in this crisp. It's essentially broken into two parts: the filling and the crisp topping.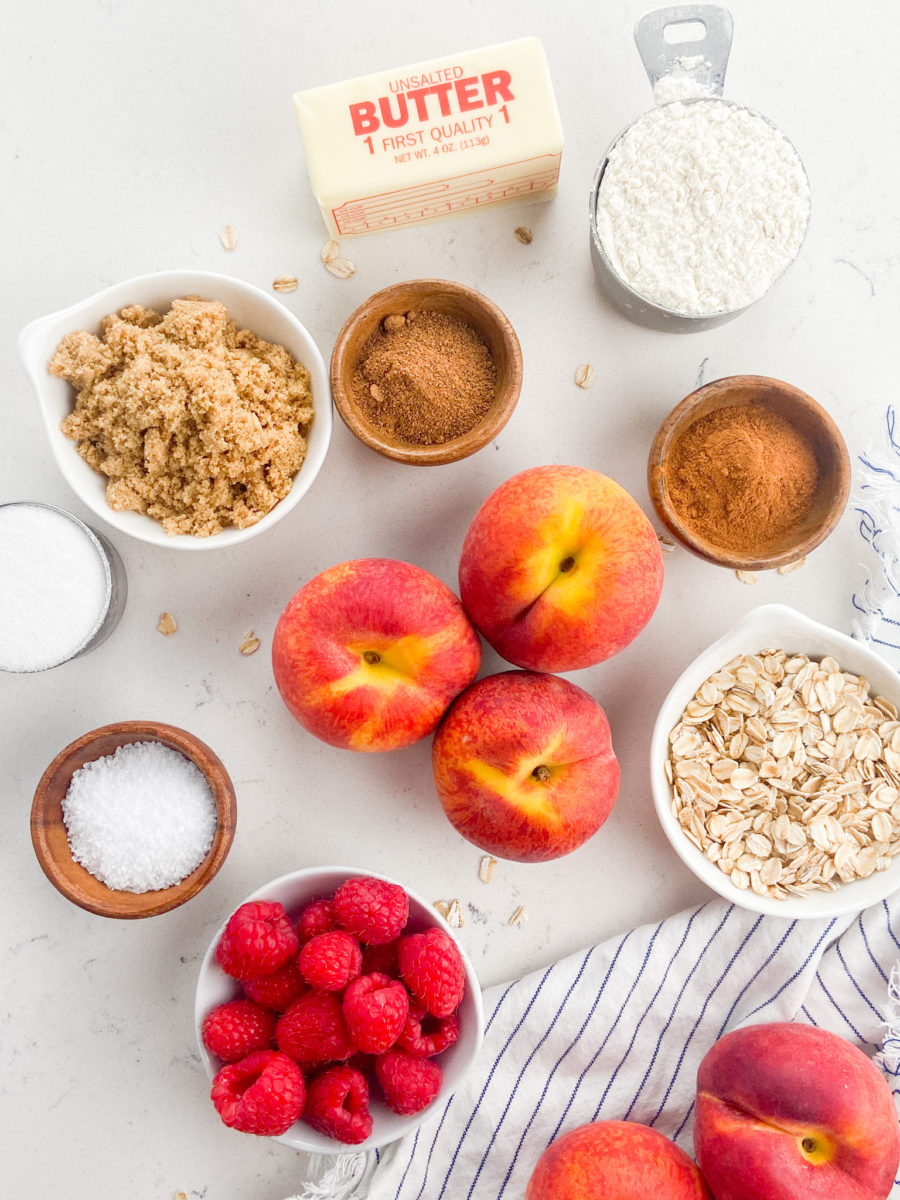 For the Raspberry Peach Filling you'll need:
PEACHES: You're going to want to use fresh peaches here. They will give you the best flavor and texture for the final dish.
RASPBERRIES: Fresh raspberries are also key.
FLOUR: As the fruit cooks, it's going to release juices. Tossing the peaches and raspberries with flour will help thicken those juices as the crisp cooks.
SUGAR: Both brown and white sugar will add just a touch of sweetness but this crisp isn't overly sweet.
For the Crisp Topping you'll need:
FLOUR: Soaks up the butter to help make the topping crispier.
COLD BUTTER: It is important to use cold butter. Room temperature butter will spread and flatten.
OATS: Will add more crispness and a bit of nuttiness to the topping.
BROWN SUGAR: Will add sweetness to the topping.
CINNAMON
SALT
NUTMEG
Step by Step Photos and Instructions:
As I mentioned above, fruit crisps are super simple to make and this Raspberry Peach Crisp is no exception. Follow along with these step by step photos and instructions.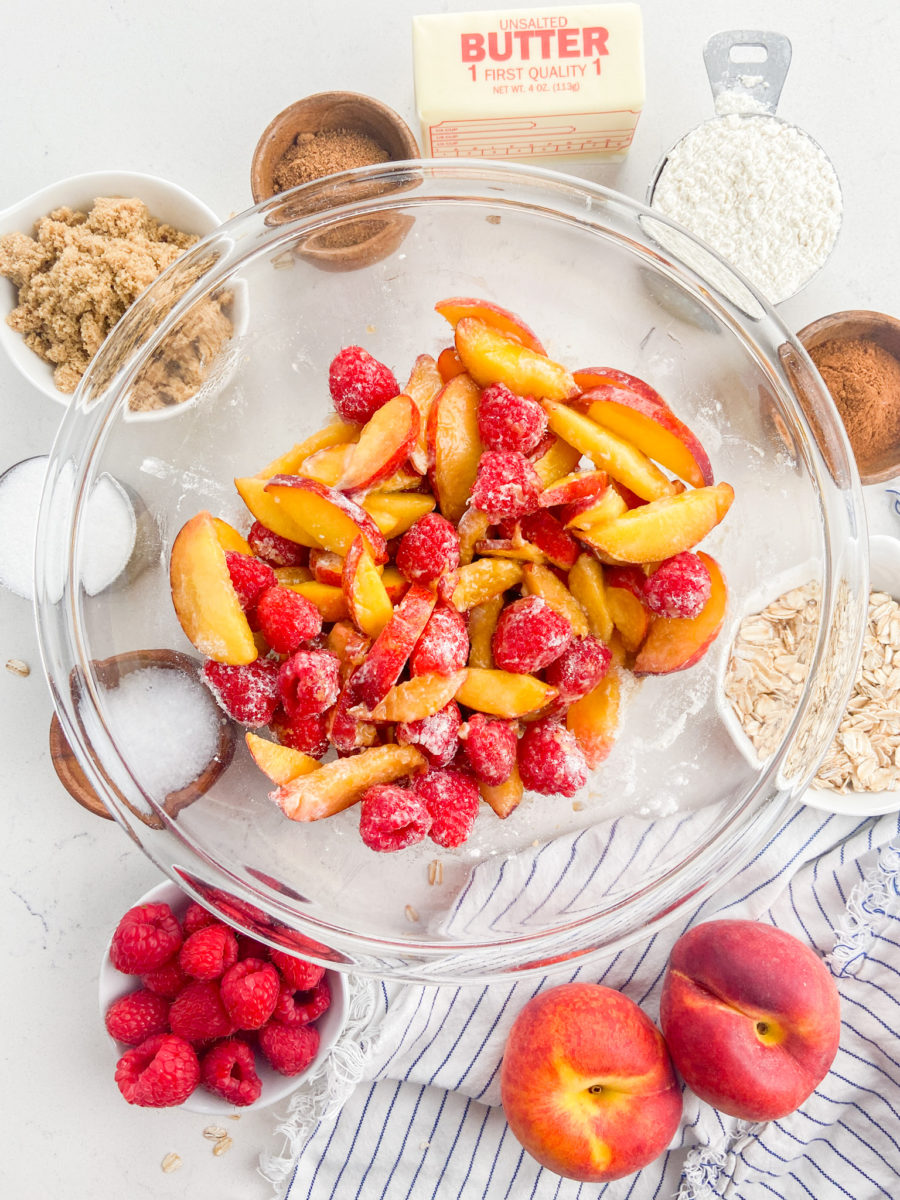 STEP #1: Preheat oven to 350 degrees F. Combine peaches, raspberries, brown sugar, granulated sugar and flour together in a bowl. Mix well.
STEP #2: Place filling into a 9-inch deep dish pie pan.
STEP #3: Make the topping. Combine brown sugar, flour, salt, oats, cinnamon and nutmeg. Use a pastry cutter to cut butter pieces into the dry mixture until it becomes crumbly.
STEP #4: Sprinkle the crumb mixture over the top of the fruit mixture. Bake in preheated oven for 35 – 40 minutes or until crumb topping is golden and the edges are bubbly. Allow to cool before serving. This will allow the juices time to thicken.
While I happen to think Raspberry Peach Crisp is delicious on it's own, it is simply divine with a scoop of vanilla ice cream on top.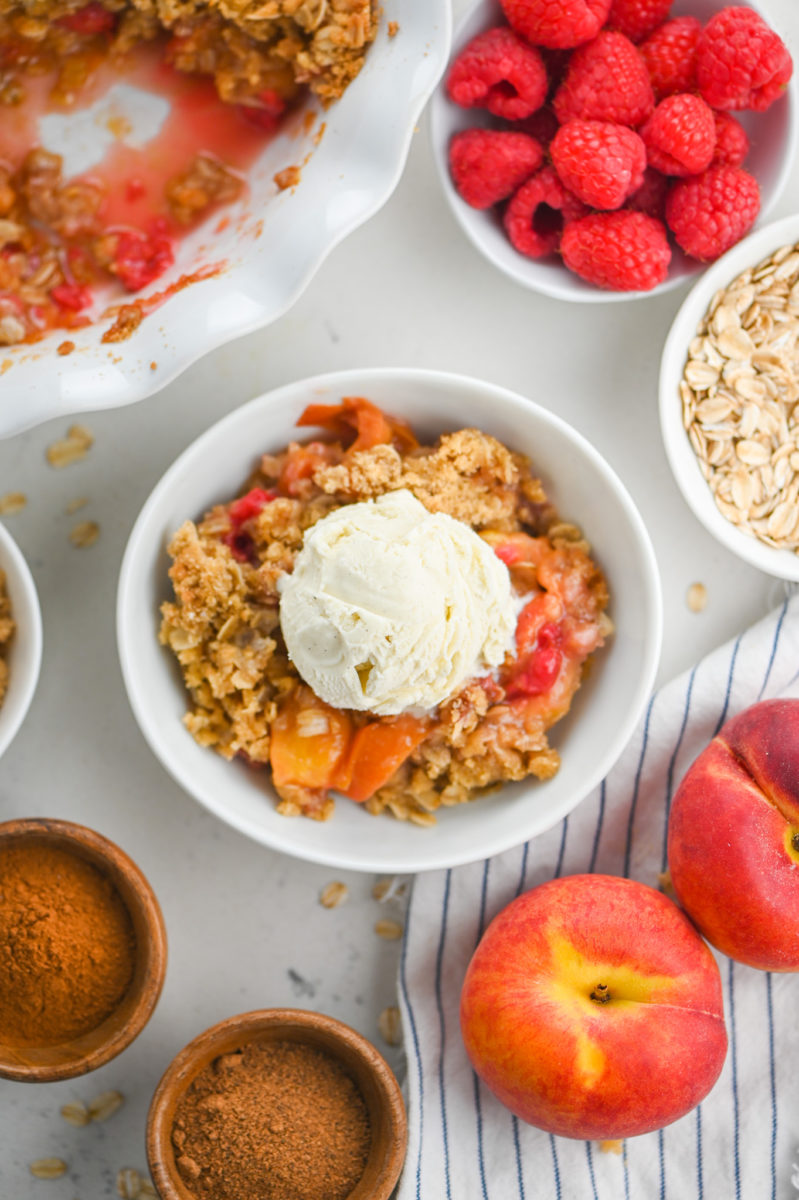 Storage and Leftovers:
Keep leftovers covered and refrigerated. Eat within a few days. Just warm individual portions in the microwave 20 – 30 seconds before serving.
Recipe FAQ:
Can I use frozen fruit?
I have not made this crisp with frozen fruit so I can't recommend it. Using frozen fruit will result in a longer baking time and you might need to add additional flour because they will release more liquid.
Does fruit crisp need to be refrigerated?
To be on the safe side, it is recommended that crisps are kept in the refrigerator to slow any bacteria growth.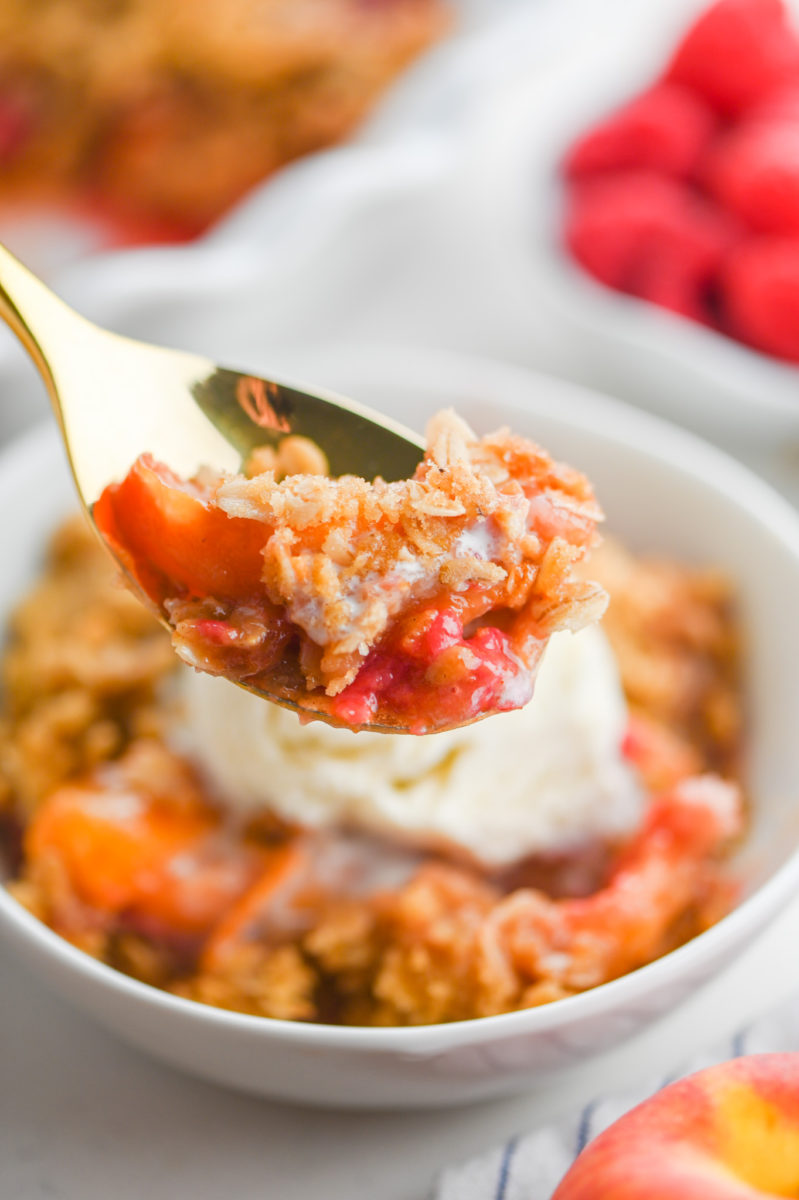 Love fruit crisps? SAME! Here are some other fruit crisp dessert recipes you've got to try!
Apple Crisp is MY FAVORITE fall dessert!
Another summer time favorite is Easy Blueberry Crisp. A great way to use summer blueberries!
Cherry Chocolate Chip Cookie Crisp takes the crisp topping to a whole new level with Chocolate Chip Cookies.
Note: This post was published in 2009. It was updated in 2023 with new photos, a modified recipe and nutrition information.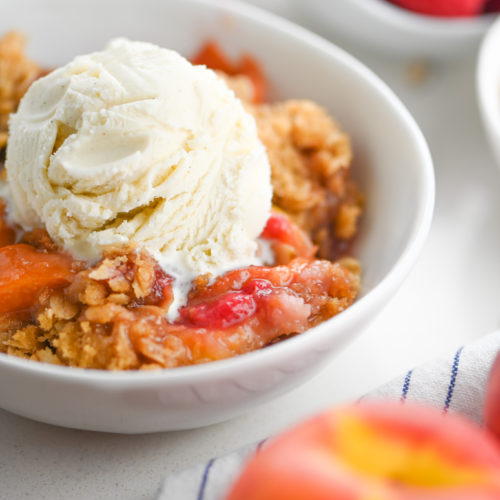 Raspberry Peach Crisp
This Easy Raspberry Peach Crisp is a must make for summer! Fresh peaches and raspberries are tossed with sugar then topped with a crumble topping. Serve warm with vanilla ice cream!
Servings 6 Servings
Calories 378kcal
Ingredients
Raspberry Peach Filling Ingredients:
3 medium peaches peeled, pitted and sliced (about 3 cups)
6 ounces raspberries
1 tablespoon granulated sugar
1 tablespoon dark brown sugar
1 tablespoon all purpose flour
Crumb Topping
2/3 cup all purpose flour
2/3 cup brown sugar
2/3 cup rolled oats
1/4 teaspoon cinnamon
1/4 teaspoon salt
1/8 teaspoon ground nutmeg
8 tablespoons unsalted butter cold, cut into pieces or grated
Instructions
Preheat oven to 350 degrees.

In a bowl mix together raspberry peach filling ingredients. If peaches are really juicy add another tablespoon of flour, this will help keep the dessert from getting soupy. Pour mixture into a 9 inch deep pie dish.

In another bowl combine brown sugar, flour, oats, salt, cinnamon and nutmeg. Using a pastry cutter, cut butter pieces into the dry mixture until it becomes crumbly. (Note: Be patient this make take a little while but trust me it will get crumbly.)

Sprinkle crumb topping over the top of fruit mixture.

Bake for 35-40 minutes or until the crumb topping starts to turn golden. The fruit may bubble slightly through the topping.

Allow to cool for several minutes. Serve with vanilla ice cream on top, if desired.
Notes
Nutrition information does not include ice cream and are for estimation purposes only. 
Nutrition
Calories: 378kcal | Carbohydrates: 57g | Protein: 4g | Fat: 16g | Saturated Fat: 10g | Polyunsaturated Fat: 1g | Monounsaturated Fat: 4g | Trans Fat: 1g | Cholesterol: 40mg | Sodium: 117mg | Potassium: 223mg | Fiber: 4g | Sugar: 35g | Vitamin A: 721IU | Vitamin C: 11mg | Calcium: 44mg | Iron: 2mg
The post Raspberry Peach Crisp appeared first on Life's Ambrosia.